Hello Monday. So glad to see you. (For real.) Today I'm linking up with Carissa from
Lowercase Letters
for Miscellany Monday -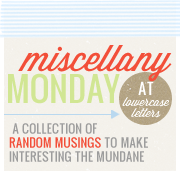 Today only! Receive 20% off your entire purchase - enter the coupon code: GREENPENDISCOUNT at checkout. There are so many fun items to add to your Spring wardrobe (or for the little gal in your life).

Here are a few fun Spring items:
My Sister, Sunshine and Shopping.
Saturday was filled with three of my favorite things! After spending all of Saturday morning completing custom orders for Poppy and Pippa and staring out the window depressed because of the clouds, my sister called and wanted to go shopping. We have not spent a Saturday shopping in a LONG time. I mean really long time. As I drove to her house - the clouds opened up and the glorious came out! We had two goals in mind - new shoes for Sophie (her one year old) and a black belt for me (no, not the karate kind). We had so much fun as the day warmed up and we went from store to store! Finally, after 5 hours of shopping we realized that we purchased something at EACH store.
Here are two of my favorite purchases:
Here is a sneak peak of the new wall art in my office. I am so excited to show you how well it turned out and all for less than $25! I started it on Friday evening and realized how much fun these DIY projects can be! Check back tomorrow to see what I did. It's probably just easier to follow me on Bloglovin' (see the button off the the right?) or through Google. :)
Visit
Smashing Magazine
for a desktop calendar. Here are two of my favorites - not sure which one I'm going to use yet. You can choose whether or not you'd like to include the calendar on the pic. I love this!
I love sunshine on the weekends. For some reason it gives me that burst of energy I need to organize, clean, and do laundry. Tasks don't seem to be as much work. Got lots done and am ready for the week to begin!
Maybe I'm looking forward to this week because I know it's a three-day week for me!!! I have five days (including the weekend) off. I need this break so badly. I have NO plans... yet. I'm sure I'll work on some organizing or cleaning project. I am energized just knowing that I have a break to look forward to.
:: See you tomorrow ::