I hope everyone had a great weekend! I'm linking up with Carissa from Lowercase Letters to share some miscellany. Enjoy!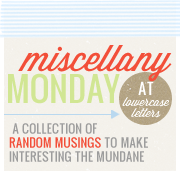 On Saturday I got together with some gals for a baby shower. At one time we all worked together but, since most have gone on to other things. Allie, the gal we had the baby shower for, moved to the Minneapolis/St. Paul area about two years ago. It's so great that we can all get together like no time has passed at all!
On Sunday I had the privilege of hanging out with my beautiful niece, Sophie. She is a hoot! She was only here for about an hour but I think we had a great time. She giggled, chased Whidbey, had a snack, chased Whidbey, played with Whidbey's toys, watched the birds with Whidbey, and finally got a kiss from Whidbey before she left. I think Whidbey had as much fun as she did - he didn't run away so I see that as success!
For the first time ever I have my entire week of blogging planned out! I am so proud of myself because I know it may never happen again. I am also going to do some sponsor swapping with a few gals in May...if I get my butt in gear and get them the info they need. If one of them is you. I'm sorry. If only there were more minutes in the day!
Have a great Monday!
Laura