Time to share a little of this and a little of that for Miscellany Monday. I'm linking up with Carissa from Lowercase Letters.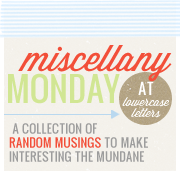 Went to my nephew Andy's track meet last Tuesday. He did great! He ran the mile and the 50 yard dash. I got a side ache just watching him.
Finally went to see The Hunger Games. Loved it.
On Sunday Bill and I helped our friends Jess and Olivier move into their first home. It's so exciting to see all of the fun things they have planned. I adore their front porch. Here is a pic of the floor.
I only work Monday and Tuesday this week!! I don't go back to work until Tuesday of the following week. I am looking forward to a stay-cation.
So You Think You Can Dance is back this week! If you are a fan of the show you probably already know they made some huge changes this season. I can't wait to see how it all plays out. Stay tuned on Fridays for my thoughts.
Have a wonderful Monday!
Laura