I had a wonderful weekend getting things done around the house and spending time with family. It was a sunny weekend with perfect temps. There's nothing like a little sunshine to boost my motivation. I can't wait to share my weekend organizing project with you tomorrow! For today, I'm just going to share a little miscellany with you.
Linking up with Carissa!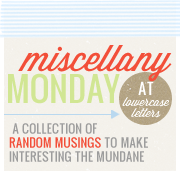 It was great to spend Saturday with my Mom and Dad as well as my Sister and her fam. We met at The Cajun a small family owned restaurant that has the BEST pancakes and burgers around. Oh yeah, they also have Cajun food too.
My Mom and Me. I hope I look that good when I'm 60!
On Sunday Bill's parents came over for lunch. Bill made his famous and delicious chicken tacos. Bill's mom brought dessert - angel food cake, strawberries and whipped cream. Delish. Except for the fact that she had the cake frozen because we didn't eat it on her birthday...in January.
TIP #1 Do not freeze angel food cake. It does not keep.
My Mother-in-law and me.
While working on my organizing project I found my old Nintendo. The first version. EVER. Yes, I still have it. You never know when you're going to feel like a good game of Duck Hunt! I decided it was time to loan it to my nephews so they can experience a REAL video game.
This weekend was also a bit sad. We decided to sell our VW Vanagon. We have four vehicles (five if you count the scooter!) for two people. It was too many. Bill and I had some wonderful camping trips in the Westie (as we called it). It was great because if there were too many mosquitos or it ended up raining we could always hang out in it. It had electricity so we could plug in a fan on hot nights or plug in the iPad so we could play scrabble to get away from the mosquitos. It was the perfect size for us. It went to live with a nice family in Montana. They have a two year old and a dog. It think the Westie will be happy with his new family.
If you've never seen inside one -
you should google it they're pretty cool.
TIP #2: Never hem curtains when you are upset about something.
I measured and cut then yelled to Bill, "Honey I really F@#$ed up bad!" I was so mad but, it was hilarious and I couldn't stop laughing. I guess it's ok when the mistake you make is so huge it makes you laugh. I measured 68" rather than 86". These will now get hemmed a bit more and put in my office.
As I mentioned before. Sunshine motivates me. The forecast indicates a sunshine filled week - which is good because I have a lot of paperwork to get through. Hope you have a wonderful week!