Hello Monday. Today I'm linking up with Carissa from Lowercase Letters for Miscellany Monday. You really should check it out. I'm also starting something new today. There are so many times when I have questions about products or what I should wear with my skinny jeans that I really want to ask you. So, every now and then I'm going to have a "Question of the Day," I know you must have questions on your mind too. This way we can all share our opinions and maybe even get tips from each other. It's a win-win. :)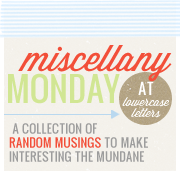 one.
I had Thursday and Friday off (as well as today) to work on
Poppy and Pippa
items. I'm doing my first party on Friday (the 13th!!). I created a new flower - all hand sewn - to coordinate with the Matilda Jane clothing line as well as many other clothing lines. Not so much the vacation I was planning but, all of this party business came together on Wednesday night. I really really need to take time off for just me. I so need it!
two.
I'm trying to eat better. Aren't we all?! It's so hard because I am ADDICTED to chocolate...and candy...and really anything sweet! Well, in my attempt to eat better I created my very own "more healthy than ice cream and chocolate cake" dessert. It's cut up banana, pineapple, coconut and two tablespoons of Hershey's chocolate syrup. Looks absolutely horrible. Tastes absolutely fabulous! I can't wait for strawberries to be in season. It is going to be even better!
three.
Easter. What a beautiful day! We spent this Easter with Bill's parents. We went to Mass and then out to eat. It was delicious. (Can you tell I'm a bit passionate about food?) I had the Turkey Cranberry Puff Pastry with Mornay Sauce and Maple Glazed Carrots. It was so wonderful. I hope you all enjoyed your Easter and time with your families.
:: Question of the Day ::
What is your favorite body wash and why?
I have just a little left and would like to try something new. Can't wait to hear what you have to say!
Have a wonderful day. Talk to you tomorrow :)