Miscellany Monday is one of my favorite posts to write because I get to share the random. I hope everyone had a great weekend!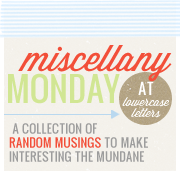 My first
Poppy and Pippa
party was a huge success! It was a lot of work to prepare for it - getting all of the kinks out. The next one will go off without a hitch. I was so exhausted afterwards but, it was a good exhausted. My friend Holly invited me to do the party; she has been wanting to have one for some time now. We even made plans to do another one!
A box came in the mail on Saturday; It was filled with beautiful elastic. I love the new
elastic hair ties
in my shop. I now have approx. 30 colors available. I spent some time on Saturday working on the hair ties and headbands. Here's just a glimpse at the recently purchased elastic.
I did a little shopping on Saturday as well. I love shopping with a gift card. Here is what I got:
These super comfy khaki's in pink. They are so soft and have a relaxed fit. I could get them in every color! They seem to run big so get a size down.
I've been on the hunt for a new pair of boyfriend jeans with no success. I am so disappointed. So I settled on these. I love them. They are the perfect in-between skinny and normal fit. I got the ankle length so I could roll them.
Whidbey had fun in my lightbox in between taking photos of product.
Have a Great Monday. Talk to you Tomorrow!
Laura