This month has flown by and I realized late last week that I hadn't introduced you to these wonderful gals! Each of these lovely ladies offered to sponsor share this month. What that means is - they posted my blog button on their blog in hopes of more people finding out about it. I've had each of their buttons posted on the right hand side of my blog this month. I hope you took sometime to check them out. If not, here is a little more about each one.
I'm Leigh Anne, and I'm so glad you have found my blog. I'm a small town girl originally from Ohio with a big heart, and I want to share all of the things that make my heart happy; hence my blog name Hart (my last name) to Heart
This isn't my personal blog but I'd love for all of you to know a little about me!
The best way for you to get to know me is to take a peek at the following past blog posts, which I believe truly will give you the best idea of what I'm about:
I also live in the grand state of Alaska
I was once in the audiance of the Oprah Winfery show.
I have struggled with a condition called KP... you might have it too!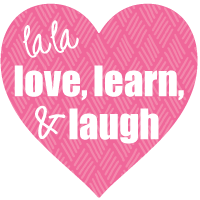 Hey! My name is Beverly, and I'm a 20- something year old gal who is a newborn to the blogging world! I am a native to Southern California... where the sun shines, the smog is thick, the traffic is bumper to bumper, and where you can be in the mountains, beach, forest (ok... Rainforest Cafe), and desert in ONE day!! I "temporarily" live in Oregon, going on for 3 years this July (I know... not so much temporary, but I still tell myself that to get through each day). My fiancé had an amazing opportunity to work with the Strength and Conditioning staff at a university, and we couldn't pass up on this chance for him to gain experience... especially since California was suffering from the recession and it's aftermath!
SO... with that said, here I am! Ready to get started with so much to say!
Here are a few facts about me if you're wondering more about the gal behind this blog:
I have a HUGE family

I am a proud parent of two AMAZING dogs... Marley and Moana

I'm on a countdown to gradate with my PhD in Organizational Development

I'm on a countdown to marry my lifelong best friend on our 10th year anniversary!

I ADORE everything about Lauren Conrad

I am obsessed with cleaning... my apartment, my car, my purse... you name it!

When my grandma passed away, there were 36 of us grandchildren... AND

36 is our family jersey number each of us take over in every sport we play!

I love scary movies, but have to watch Grease after to make me sleep happy

My name is Beverly, and I am addicted to PINTEREST!
First I want to start by thanking Laura for swapping with me this month- isn't she great!!
I am Liz! I started blogging just a few days before New Year's and since starting my blog I have had the opportunity to meet many wonderful ladies, increased my tech/internet skills (WOW! I know!) and really found my passion for writing, trying new things and just finding happiness in the simple things.
I am 22 years old and got married last May- our first anniversary is/was May 14th!!! I am spent the last 8 months studying to become a teacher and now I have been unleashed to the real world of grown ups! I hope to be a high school French/History teacher. I live in a small town called Spencerville (population 500) in Ontario, Canada.
I enjoy cooking and baking, crocheting, Pinterest (maybe a little too much...), reading, running and of course- blogging!
Meeting new people is the best part of blogging so please drop on over to my blog and say hello!!


Hello Readers! My name is Bethany and I run the blog Goldylocksandthebarrows (http://goldylocksandthebarrows.blogspot.com) It is a lifestyle blog about my little family the fun we have together. I am a natural Brunette, but when I started the blog I was a Blonde, hence Goldy. I love to try and put funny stuff in with a little bit of realness. I post 3 solid days a week, sometimes more, because I am a Stay at Home mom and somehow time flies out the window as soon and my son and daughter wake up! I am hoping to start doing more in the very soon to be future.
Some of my true loves are my husband Steve and my kids, Isaiah and Lilly. To read. I read about a book a month. Wish it was more, but let's be realistic. My celebrity crush is Victoria Beckham. Love her. Nuff said. Cupcakes, I dream of opening a cupcake shop in the town I live in, but you actually have to have skills to pull it off. (My husband says I just became really domesticated in the last couple of months, really?) Being outside with my family. My kids and I go on walks almost daily. A great shopping trip involving the whole she-ban, shoes, jewelry and clothes. And anything Disney.
But sometimes staying home you have to remind yourself that you are at least a 1 on the cool meter, so I "work" in the world of Mary Kay and Pampered Chef for clothes... J. Bella! (http://www.jbellashop.net/) If you go to the website and click on "Meet the Team" on the main page, you can meet me! I go to ladies' houses and set up a clothing boutique in their home. And it is so much fun! I also am able to sell online and am offering some specials for you! If you have any questions please email me at Bethany@jbellashop.com.
And I just started an Etsy shop, BB Design (http://www.etsy.com/shop/bmbarrow?ref=seller_info). And if you are looking for something custom let me know! I am just starting and hoping to add more!
For orders of $50 or more, have Free Shipping with code BethanyShips


So, what are you waiting for? Check them out!