I'm linking up with Carissa for a little Miscellany.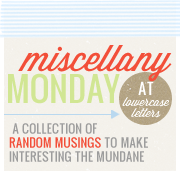 one.
enjoy 15% off your entire purchase -
even the fabulous hair ties!
*enter MEMORIALDAY2012 at checkout to receive the discount.
Discount is only advertised on FB and this website. If you do not enter the coupon code a refund will not be given.
two.
i've been trying to get my hair to form "beachy" waves.
it never happens. ever. I keep practicing. it's way too bouncy
for me. this is what it looked like from the back.
so up in a ponytail it went.
three.
For the first time my green pen had sponsors. I will be introducing
them to you this week. They are all real swell. :)
four.
I had a great "stay"cation. I got a lot done and I tried to spend a lot of time doing nothing. I cleaned my closet...wanna see? It only took three hours. I went through the entire thing. emptied everything out into a clothes basket for donating - a clothes basket for giving to friends - and a rubbermaid bin for clothes that are seasonal (or don't fit at the moment.)
Here's the before.
there is a lot of open space and a random stool in there. it's for whidbey. he likes to climb.
after.
as you can see. it's a lot more organized. I need to run to Target to pick up a shoe organizer for the bottom left side. My boots are in the flat bin - stored away for the season. the purses hanging on the right side have come down since this picture was taken. they were too much fun for Whidbey to leave alone. I'm still trying to figure out what I'm going to do with them now.
five.
Any suggestions?
I hope you are enjoying your day off.
Remember to take time to remember those that have fought for our freedom!